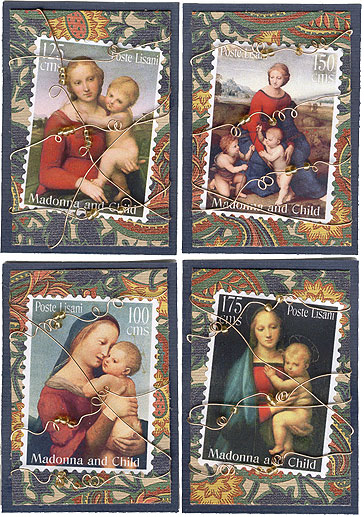 Recently, there have been quite a few requests for instructions coming in on Facebook, blog comments and email. Here's the deal:
I've given away a ton of instructions, printables, and how-to lessons over the years. Here's where you can find any instructions I've written that are available free of charge:

Free projects at Ten Two Studios

Free projects at Go Make Something

If you visit these places, you'll understand that I've done more than my share of freebies, and why I feel comfortable writing what follows…

If a project appears on the front page of this site attributed to one of the design team members, or one of my readers, chances are there are no instructions available. It was made by someone else, far away, and I was lucky enough to receive a photograph of the finished project. It is not posted here to teach you how to make it. I've posted it as inspiration, to show you what someone did with Ten Two Studios products. Sometimes, they're simple things, that you'll be able to figure out how to make on your own, but if you can't, please don't ask me to show you.

Instructions that are included in kits and digital kits are not available for free. I chose to make them part of a kit, and offer the kit for sale. If you want to know how I made something in a kit, you should buy the kit, if it's available. If it's not, chances are the instructions won't do you any good, because I wrote them to work with the specific parts in that kit, and you won't have them. Please don't ask me to just send you the instructions, or if you can purchase instructions without the kit.

Instructions for items made for The Monthly Muse are available in The Monthly Muse. If you want to know how to make something from The Monthly Muse, please buy the issue in which it appears. If you're not sure which issue it's in, ask, and I'll send you a direct link to it. Please don't ask me to just tell you how to make it.

Instructions for things made as class samples are not available for free. Please don't ask me to tell you how to make them. It's not fair to the folks who have paid to take the class. If you want to know what they've learned, pay the class fees, and take the class.

In general, anything shown on LisaVollrath.com is my personal artwork. Unless I'm teaching a class on whatever I'm showing there, instructions are not available. Not everything I know how to do is available for purchase. I hold back some of what I know because I want to do it purely for joy, rather than for dollars. Please allow me the space to decide what I will make available for sale.

And finally: don't even think of asking for something free if you haven't purchased something from in the past year. Seriously. I'm happy to post pretty things for you to look at, and you now have the links to the abundant freebies I've created over the years. I simply cannot continue to support your growing art habit without receiving some support in return. If you ask where to learn how to do something, and I give you a link to a product to purchase, please don't ask me where it's available for free, or if I'll just give it to you. I've already given more than my share.
Thanks for your continued support of my artwork and my business.