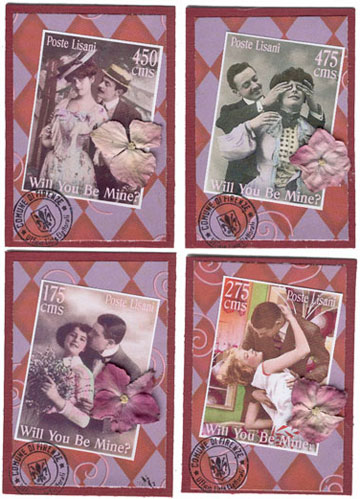 It's time for a new artist trading card swap!
What to Make: 3 artist trading cards. This is a 3 for 3 swap, which means you make 3, and you get 3 in return. Please do not send more or fewer than 3. Please make sure your cards are cut at the standard size of 2-1/2 x 3-1/2 inches, that the edges are straight and the corners are square (at a 90° angle).
Required Ten Two Studios Products: Each card must include an image from any collage sheet sold at Ten Two Studios. The image must be from a collage sheet or set, and for sale on this site. Images from The Monthly Muse do not meet this requirement.
Theme & Additional Requirements: The theme for this swap is Love & Kisses. Interpret that theme as you wish. Your card designs can all be the same, or different. Please be sure to include your name on the back of the card, so the people who receive your cards know who made them.
Mailing, Packaging & Postage: When your cards are finished, please put them into individual clear trading card sleeves, and mail them, along with an extra return mailing label, to the address that will be provided after you sign up. Return postage is not required.
Due Date: All cards must be postmarked by February 8th, 2013. Cards that are postmarked after February 8th, that do not use an image purchased from Ten Two Studios, that arrive without individual trading card sleeves, or that arrive in poor condition will be returned unswapped.
How to Sign Up: Fill out and send the form below before February 1st, 2013.
Sign ups for this swap are now closed!

These brave swappers have signed up:
Diane Trew – received 2/7
Kathy Harkleroad
Corinne Stubson – received 1/14
Melissa Hart – received 2/13
Livia Hajovsky – received 1/14
Lori Lee – received 2/1
Lorrie Sepulveda – received 2/12
Jo Podeszwa
Mary Carrillo – received 1/25
Trish Doran – received 1/25
Liz Hand – received 2/7
Shannon Martin – received 2/12