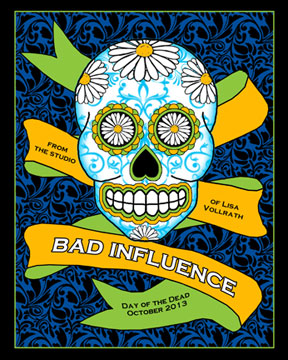 I've been quiet for a while, working on lots of new things, which I'll be posting about over the next few hours.
The first new thing: I switched the site over to a new, brighter theme today. It should load faster, and look better on all devices. Yay! It also reflects the direction my work has been headed over the past year or so—more color, more whimsy, more fun.
Big news of the day: The Day of the Dead issue of Bad Influence is now available for single copy purchase on Amazon CreateSpace. This is a beautiful, 34 page, full color issue, with artwork by SL Scheibe, Carolyn Brady, Peace Schuyler, Corinne Stubson, Cindy Couling, Patti, Mark & Connor Mohrenweiser, Barbe Saint John, Chris Ovdiyenko, Keecia Buster, Jennifer Gillooly Cahoon, and yours truly. I'm very proud of this issue!
All previous issues of Bad Influence, as well as my books, Picture Perfect, and Metal Mania, are also posted on CreateSpace.