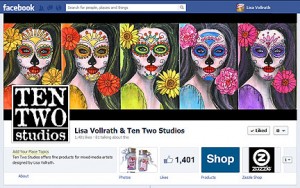 Comments are now closed. The names of the winners are posted here.
No, I'm not giving away my Facebook fans! But, to celebrate reaching 1,400 followers, I'm giving away a pile of collage goodies. Specifically, a package of 20 printed sheets and sets, valued at $100.
To enter:
Go to the Ten Two Studios Facebook page, and Like it, if you haven't already.
Come back here, and leave a comment on this post to enter the giveaway. THIS post. Not some other post. One comment per person on this post, please.
In your comment, tell me your favorite thing about fall. Only comments about fall will be included in the giveaway. If you comment about how much you want to win this giveaway, or just generally try to suck up, and don't say anything about fall, I'll delete your comment, so please don't. Everybody wants to win, and everybody thinks I'm wonderful (OK, not everybody, but a girl can dream), so let's just leave that stuff out.
Come back on November 9th 12th, when I will throw all the valid entries in a random generator, and choose a winner. Maybe it will be you! The winner must have left a comment here, and be a follower on Facebook.
Bonus: if more than 100 people leave comments, I will rake together a second pile of collage goodies, and give that away, too—so, tell your friends. Maybe they'll win, too!