December 1st is just a few days away. It's time for an advent calendar! I have two of them that you can whip together before Sunday.
The first one is the Santa's Beard Advent Calendar, shown at left. Just print out the two pieces, cut, glue, and you're ready to go. Each day between December 1st and Christmas, cut one section off Santa's beard. This is a great, simple way of counting down the days if you have little ones—and there's plenty of room on each daily strip if you'd like to write down special events, or the description of some little treat that they'll be getting that day. You'll find the Santa's Beard Advent Calendar here.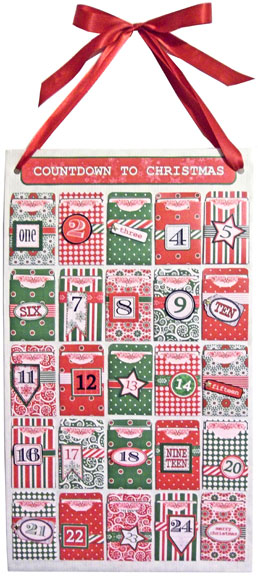 The second calendar is the Advent Activity Calendar. This one comes with pockets, numbers, and dozens of cards with common holiday activities on them. Print, fold, glue to a surface, and then choose which activities you'd like to do on which dates, and tuck those cards into the appropriate pockets. There are also blank cards, so you can write out your own activities (one of mine would have to be "lay around the house in our jammies, watching Netflix"). The kit comes with instructions for making it two ways: in a grid, or in a strip. I've also seen this kit used as embellishments for a December book, with the pockets applied to individual pages, with journaling about the day, and souvenirs, receipts, programs, etc. Very cute! You'll find the Advent Activity Calendar here.