Recently, I reworked the art sections at LisaVollrath.com, and removed about six years' worth of altered book work, including photos from dozens of round robin books. The work was no longer representative of what I'm doing with my art, but as I was taking it down, I realized that it was highly descriptive when used to illustrate the techniques I use over and over again. Fold out pages? I have tons of photos of finished pages using fold outs in creative ways. Niches? I'm your girl.

For several years, I've wanted to offer a year-long class on something I like to do. I've decided to make it happen in 2014, with 12 months of lessons about altered books.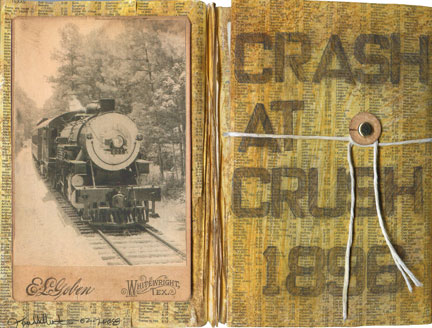 So. Sign up between now and January 5th (because I know some of you will straggle in after the new year). On the first of every month, I'll post a new set of lessons on how to do something in a book, and send you a happy email letting you know they're ready—that's a monthly nudge for you to haul out your own book, and do something with it. Some months, there might be extras, like patterns or templates or images. Some months, there might be more than one lesson, or a lesson and some speed-throughs of me doing various terrible things to my books.
Every month. All year.
When you come out on the other end of 2014, you will know a bunch of stuff about altering books, and I hope I will have motivated you to actually do most of them. Some of the stuff on the list of things I might cover: backgrounds; fold-outs; fold & tie elements; waterfalls; tipping in; transfers & image application; pockets; simple pop-ups; niches; covers. But I'm open to suggestions from the folks taking the class. If you ask about it on the classroom board, I might be motivated to do it. See how this works? It's a mutual motivation kind of thing.
The class is called A Year of Altered Books. You can find out more, and sign up, here.
Oh. Also? It's a Pay What You Want class, so those of you who don't have the $120 this class will be worth can still take it.
ETA: Registration for this class closed on January 5th.
No more students will be accepted this year.