This giveaway is now closed. Look for a winner announcement shortly.
'tis the season to give thanks for all the wonderful blessings of the past year, and for me to give away a fat envelope filled with goodies to entice you to reveal them!
So. Post a comment on this post, telling me the ONE thing for which you are most thankful from 2014, and you will be entered into a drawing for, oh, I don't know, about 30 sheets of collage images, a baggie full of vintage labels, and, let's see…oh, some Asian text pages, all of which I'm cramming into this cardboard mailer.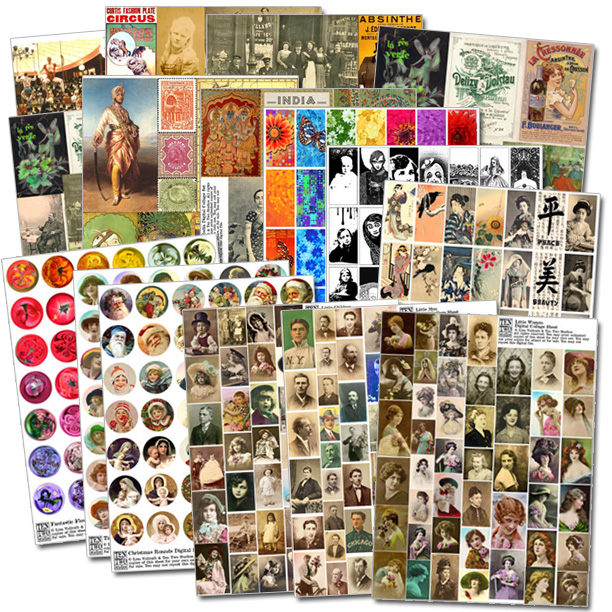 (These may not be the actual collage sheets I just crammed into the envelope. In fact, I'm sure they're not. But there were 30 of them, and I'm sure are be some in there you'll love.)
In order to keep this a happy place:
One comment per person only, please. Multiple comments will be deleted.
Comments that don't include mention of what you are thankful for will also be deleted.
Comments that include "I would be thankful for winning" or any other sort of "pick me" type language will definitely be deleted. Don't be that person.
Try to keep it short. People don't actually read your comments when you write your entire life story. They skim through it, and think, "gee, I'm glad I'm not that crazy person". And not in the good way.
Mostly: don't be a jerk.
The drawing will be held on Thanksgiving Day, sometime after I put my stuffing-filled pumpkin in the oven. Stuffing. Inside a pumpkin. You totally wish you were having Thanksgiving here, don't you?
OK. Go!
ETA: Oh. Hey. I totally forgot to say this earlier: if 100 people leave comments on this post, I'll rake together a second envelope equally crammed full of goodies. If 200 post comments, I'll rake together a third and a fourth. So, share the heck out of this post!
ETA: We've reached 100 comments. There will be two names drawn on Thanksgiving Day. Keep spreading the word.