Sign ups for this swap are now closed!
It's been a while since I've done a swap here, so I'm happy to announce a new art journal page swap, in conjunction with the upcoming Art Journal Madness issue of Bad Influence.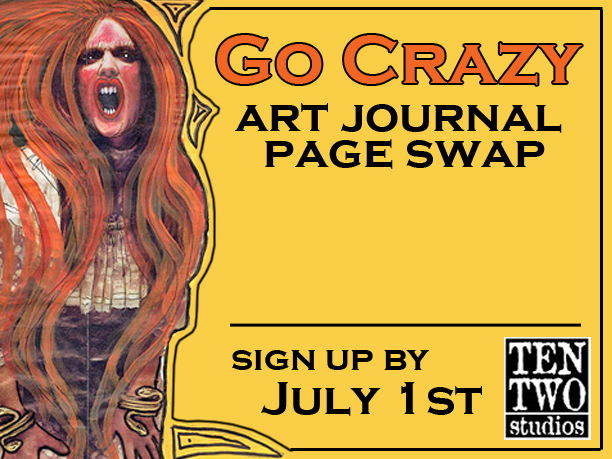 What to Make
Please make three (3) to ten (10) 5×7 inch (127×178 mm) art journal pages.
This is an even swap, which means you make 3, and you get 3 in return. or you make 5, and get 5 in return, or you make 10, and get 10 in return (assuming we have 10 or more participants). Please do not send fewer than 3 pages, or more than 10.
Theme & Additional Requirements
The theme for this swap is Go Crazy.
Interpret that theme as you wish.
Please make sure your paper is cut to 5×7 inches, that the edges are straight and the corners are square (at a 90° angle).
Pages should be presented in portrait format (tall and narrow).
Artwork should appear on the front side of the page.
The back side of the page should not be blank, and should include your full name, so recipients know who made it.
Remember that binding of pages may take up to an inch of the left side of the page. Design your pages so nothing important will be eaten by binding.
Your page designs can all be the same, or different.
All pages must be original, handmade artwork. No copies or digital prints will be accepted.
Please refrain from using dimensional embellishments. Pages should be flat.
Please note: This swap is for ART JOURNAL PAGES ONLY.
These are not chunky pages, fat book pages, or scrapbook pages.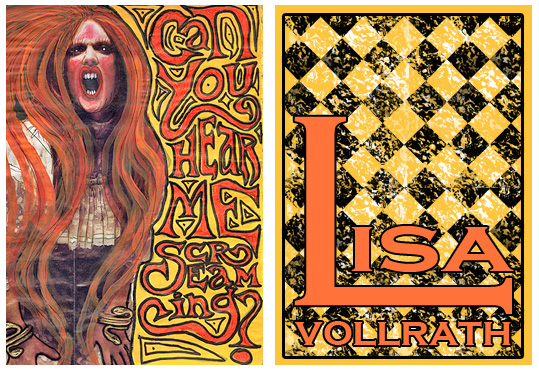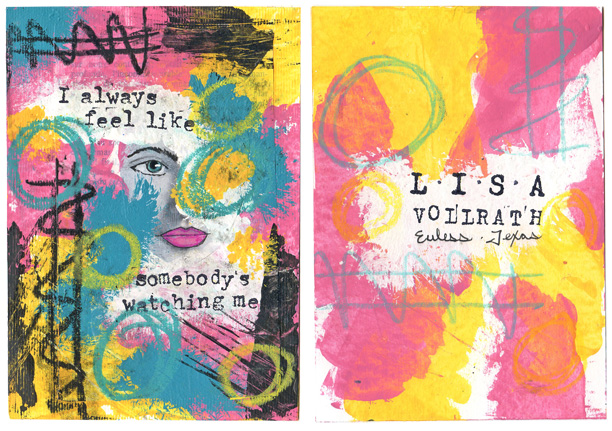 Mailing, Packaging & Postage
When your pages are finished, please put them into a flat, reusable manila envelope, and mail them, along with a release form, to the address that will be provided after you sign up.
Return postage is not required.
Please do not include excess packaging, bubble wrap, cardboard, or tape inside your package.
All incoming swap packages must be postmarked by July 15th.
Packages that are postmarked after July 15th, that contain pages that don't conform to the 5×7 inch size guidelines, are designed to be viewed in landscape rather than portrait format, that arrive without a release form, or that arrive in poor condition will be returned unswapped.
How to Sign Up
Fill out and send the form below before Wednesday, July 1st. In return, you will receive a welcome email that includes the link to the required release form. You are also adding your name to an email list that will exist for the duration of this project, and will allow me to send you reminders as the deadline for mailing nears.
Sign ups are closed. The form has been removed.
Questions & Answers
Got questions? Leave a comment, and I'll try to answer.
Do I mail to one person, or many people?
All pages are mailed to me, and I'll repackage and remail them. The mailing info is in the document you'll receive when you sign up.
What do I send for return postage?
In exchange for allowing me to consider your pages for publication in Bad Influence, I will pay the return postage.
Is this swap US only?
NO! This swap is open to anyone, no matter where you are in the world.
Packages Received
I've received swap packages from the following folks:
Trixie Smith
Susan Adamek
Lisa Jones
Rachel Mims
Jesse Warren
Carolyn Huber
Keisha Egbert
Teresa Low
Lee Hynes
Marilyn Hughes
Diane Trew
Nova Calverley-Chase
Colleen Baldree
Amy O'Brien
Maya Jansen-Beijn
Monica Longard (pages fused together in transit – discarded)
Janie Mims (no release form – returned)