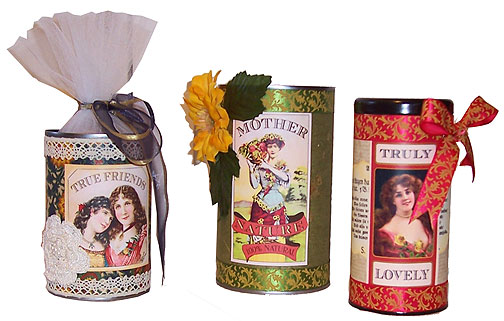 I always need places to store brushes and pens, and I'm bored with the industrial plastic solutions I've used in my workroom. Why shouldn't the items I use to organize be pretty, too? These quick decorated tin cans were my solution.
To make your own tin cans, you'll need:
A label sheet from Ten Two Studios. I used the Beauties labels for these samples.
Tin cans. I used a tea tin with a stopper, a tall tomato sauce can, and a shorter bean can.
Paper scraps. I used some heavy wrapping paper scraps, some handmade papers, and some white mailing paper stained with coffee.
Ribbons or lace to trim the edges.
Lace appliques, silk flowers or other romantic bits for embellishments, if you wish.
Chalk inkpads, if you wish to tone edges.
A glue stick for paper bits and lightweight trims.
E6000 for heavier embellishments and trims.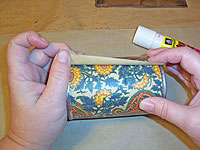 Remove the labels from your cans, wash them, and allow them to dry overnight. Cut a piece of paper large enough to wrap around the can (or several pieces that you can layer over the surface), and roughly the height of the sides, and glue them in place with glue stick. Don't worry if the paper doesn't meet the upper and lower lips of the cans, since you'll cover these with ribbon later.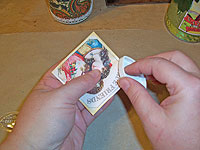 Choose labels from the collage sheet, and cut them out. If you wish, tone the edges with chalk inkpads to age them.

Glue the labels to the fronts of the cans with a liberal amount of glue stick.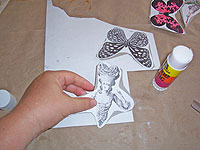 Decorate!
For the True Friends can, I applied glue stick to some crocheted trim, and applied it to the can just inside the metal rims. A large crocheted applique was applied to the can with e6000. I thought this can looked like it could be used as a gift container, for cookies or candies wrapped in a piece of white tulle, and tied with a pretty ribbon.
For the Mother Nature can, I applied printed ribbons to the top and bottom edges, using glue stick, then glued a large silk flower to one side with E6000.
For the Truly Lovely can, I applied printed ribbons to the top and bottom edges with glue stick, then tied a bow and glued it to one side with E6000.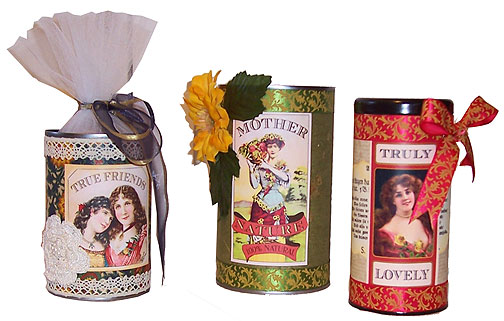 There you have it: pretty storage in less than an hour!