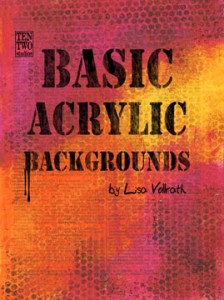 The winner is…NADINE WONG.
Comments on this post are now closed.
As some of you already know, I've started the tedious process of converting my how-to CDs to books. The first one, Basic Acrylic Backgrounds, is already done, and available for purchase on CreateSpace and Amazon, along with all my previous books and 'zines.
I have a proof copy of Basic Acrylic Backgrounds that I would love to give away. Leave a comment below, telling me something good that's going on in your world right now, and that will enter you in the drawing for this book. On April 1st, I'll throw all the qualifying entries into a pile, and pick one.
Go!
Friday ETA: Honestly, folks, if you leave a comment that says "sign me up for the drawing", that doesn't qualify as telling me something good. It tells me you didn't bother to read this post. And it makes me delete your comment, while mumbling something ugly under my breath…
Saturday ETA: I thought it would go without saying, but apparently it doesn't: "I would love to win this book" is not telling me something good going on in your world, either. So far, I've deleted about a dozen of those…