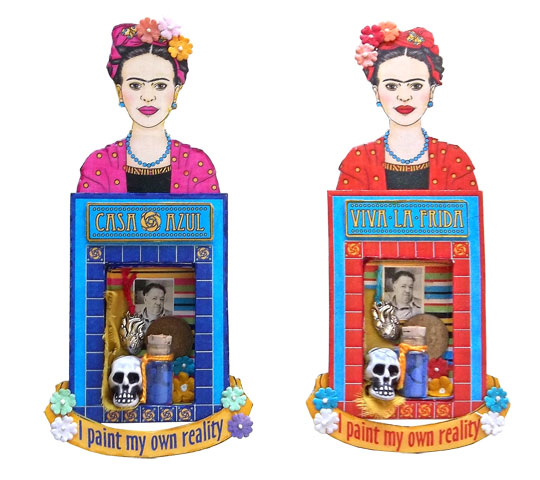 These sweet little Frida matchboxes are designed to hang on a wall. To make your shrines, you'll need:
From Ten Two Studios, you'll need a Frida Matchbox Shrine printable kit. It comes with the digital sheet shown in the video, plus step by step instructions with photos.
A printer, and good paper. I printed my sheet on 32lb. laser paper.
Lightweight chipboard.
Matchboxes. Get the small 32 count size from the dollar store, or any big box store.
A glue stick, and the liquid glue of your choice. I usually use quick drying white glue for chipboard, and E6000 for dimensional items.
Gesso, for priming the chipboard and matchboxes.
Found objects, like skull beads, tiny bottles, fabric scraps and such, to fill the shrine.
Sharp scissors and/or a sharp craft knife.
Sharpies. I used red, blue, yellow, pink and black for these shrines.
A scrap of ribbon, to make a hanging loop on the back.
https://www.youtube.com/watch?v=_-6zkpeVRjU